The Coronavirus, or COVID–19, is a global epidemic that is impacting all sectors of the economy. From aerospace, agriculture and consumer goods through to financial services, oil & gas and technology. No industry has escaped the pandemic, including the insurance sector.
Small businesses, freelancers and the self-employed are being hit particularly hard. Cashflow for smaller businesses and sole traders tends to be tighter, meaning they are less financially robust in general. Governments around the world are taking direct action to support SMEs and the self-employed.
Why are small businesses and contractors affected differently by COVID-19?
SMEs and the self-employed are feeling the impact of the coronavirus more keenly as supply chain disruptions and lost sales directly impact their already tight cashflow. This is often because their work heavily depends on temporary lower paid contracts. Their workload ebbs and flows according to periodic demand. This is likely to reduce dramatically in the coming weeks as the virus takes hold and economic activity contracts.
It is expected that the progressive reduction in economic activity will be reflected in lower demand for consultancy and professional services. These are sectors dominated by a workforce of freelancers and contractors.
What trends are we seeing in demand for small business insurance during the coronavirus outbreak?
The uncertainty small businesses are currently experiencing as a result of Coronavirus is having a knock-on effect in their insurance requirements. We have seen demand for Professional Indemnity insurance fall over the past few weeks, which we believe is directly linked to economic activity shrinking. Consultancy businesses are signing fewer contracts for works and therefore their need for PI insurance to cover contracts is no longer there. We expect this downward trend to continue while the nation is still in the grip of the pandemic.
As demonstrated in the graph below, there has been a sharp increase in demand for Business Interruption insurance in the past few weeks, which is not surprising given the situation. The demand for Business Interruption cover has increased by over 623%.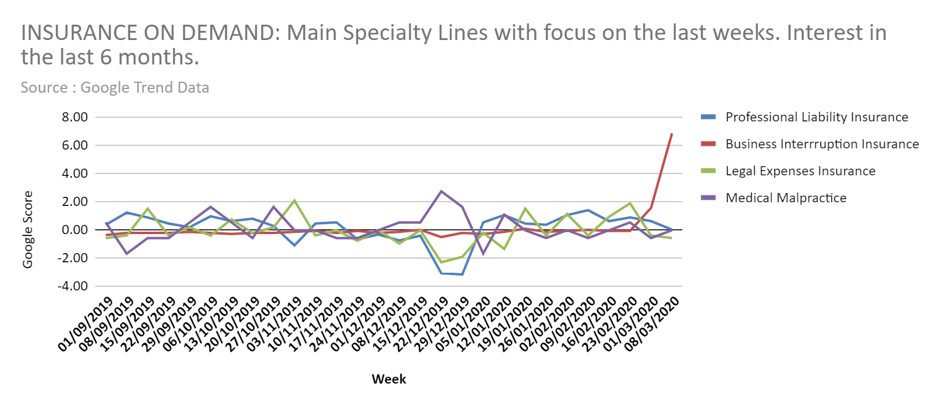 It is indeed a sensible move for many small businesses and self-employed looking at every option to minimise the impact of the outbreak on their businesses. Although business interruption due to coronavirus specifically is not included in the policies, simply because this is a new risk that no one saw or predicted coming, small businesses and self-employed with Business Interruption cover can still be confident that they are covered for:
Loss of income – We will pay as close as possible to the estimated net profits that would have been expected had the business interruption event not occurred.
Increased cost of working – We'll cover all costs and expenses incurred by your business to minimise your loss of income.
Disruption or interruption of supplies – If your UK suppliers are compromised, we can cover you for any supplies that are necessary to run your business.
Public utilities interruption – If the interruption lasts longer than 24 hours.
Public authority incidents – If you're denied access to your premises for more than 24 hours, we'll cover you for any income lost during that time.
Restrictions preventing you from using your premises – These can include injuries caused by food and drink consumed on your premises, or the presence of vermin or pests.
Continuing hire charges – If you're legally required to pay those charges.
The significant increase in interest for Medical Malpractice cover (up 33%) is also not surprising against the backdrop of the fast-moving national medical emergency that is emerging. We believe this is due to the increased numbers of medical professionals seeking specific insurance as they return to the industry or become newly qualified and join the efforts to care for those contracting the virus.
Tapoly, along with other insurers, brokers and MGAs in the insurance industry are here to help those looking to protect their businesses in the coming weeks and months. To see the full list of our products that are available on demand, when you need it, please click here
Janthana Kaenprakhamroy, CEO and Tapoly co-founder commented:
"Tapoly provides commercial insurance products such as professional indemnity, public liability and some business protection insurance, including business disruption for freelancers and SMEs.
The concept of the gig economy has always been to work independently and remotely, so working from home and remotely for this group of workers is the norm. How the Coronavirus pandemic impacts gig workers will largely depend on their job. If you are an event organiser you are exposed to the cost of event cancellation. However, if you are a freelance designer or virtual assistant, where you are already mainly working from home, this pandemic may have very little impact on your work.
The Corona pandemic has certainly increased the need to work from home, allowing the concept of working remotely and digitally to be tested on a global scale. It forces less digital business to become more digital.

Insurtech is fundamental in leading the digital insurance innovation that enables more insurers to access the market digitally. It allows more customers to buy insurance on-line in the most convenient way.
We have seen a spike in customers searching for business disruption cover. Over the last few weeks there has been a massive increase on Google search for Business Interruption, with a +623.81% increase compared to this time last year.
However, many policies don't cover pandemics such as Coronavirus. This is where the government has stepped in to help. There are several initiatives from the government to support SMEs during this crisis, such as HMRC providing statutory sick pay up to two weeks per person for COVID-19 related cases, as well as the British Business Bank offering a Coronavirus Business Interruption Loan Scheme."