Does your business have a social media strategy? If not, lockdown may provide the ideal opportunity to start using social media for business growth.
More of us are working from home than ever before, so it's probably fair to say that we're spending more time online than ever. That's why social media can be an invaluable asset for small businesses during these challenging times. It can help you to communicate with your existing customers and potentially find new customers too.
Let's take a look at how social media can help small businesses during the coronavirus pandemic.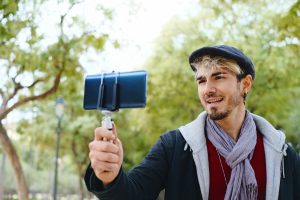 Communicate with Existing Customers and Potential Customers
Not all businesses can achieve growth and boost profits through social media. But any business in any sector can use social media as a means of communicating with both existing customers and potential customers.
If you've had to scale down or stop trading, you can use social media to let your customers know what's happening. Whether it's on Twitter, Facebook or LinkedIn, you can keep your customers updated on the adjustments you're making, on any delays in your supply chain or delivery times, and on when you expect things to return to normal.
Be as open and honest as you can, and keep it regular. Also keep it professional. Only tell customers what they need to know. As frustrating as all this is, don't be tempted to use social media to vent! That could land you in some hot water, and it could even lose you some of your customers.
But regular and honest updates could help you to retain your existing customers, while letting any new customers know what to expect from you in these trying times.
Find New Opportunities through Social Media
If everyone else is working from home and spending entire days online, why not use this as an opportunity to reach out and forge new business relationships?
LinkedIn is your friend here, and there are two things you can try:
Become a thought leader in your industry
Use your LinkedIn updates to share your thoughts on the current situation, and how it's affecting your industry.
Again, keep things professional – your aim is to lead discussions, not to rant. But invite comments and contributions from others in your industry. Take part in any conversations that start, and tag any companies or individuals that you feel could make a valuable contribution to the debate.
Do this enough times and people may start to view you as a thought leader in your industry. Who knows what sort of fruitful business relationships may spring from these expert discussions?
Reach out and connect with potential clients
Make a list of your dream clients, the people and the companies you want to work with. Then reach out to them on LinkedIn.
When you connect on LinkedIn, you can send a message with your connection request. These messages can't be long, so you should be blunt, but honest. Say you're reaching out to others in your industry, that in these uncertain times we all need to work together more than ever before.
Your aim isn't to make a sale. It's to make a connection, so the most you should ask for in your opening message is "a quick chat".
Crucially, you should tailor every outreach message to every individual. Don't just copy and paste the same message for everyone. People will be able to tell, and it won't make them any more likely to want to work with you!
Sales and Promotions for B2C Businesses
As we said above, not all businesses can expect to boost sales through using social media. But if you work in the B2C sector, and you sell products and services to the sort of demographics that use social media, lockdown is the perfect opportunity to reach new and existing customers.
Take the time to research the sort of people that use each social media platform. You'll likely find that millennials are the heaviest social media users, but that older users gravitate towards platforms like Facebook. The point is, you should determine where your target audience spends their time online, and focus your efforts there. If you target men aged 50+ with an interest in golf, for example, you probably won't find much success on Snapchat!
Be Prepared to Pay for Social Media Advertising
With enough time and energy, it's possible to find organic success on pretty much any social media platform. But this invariably involves spending countless hours every single day ceaselessly posting content, analysing that content's performance, and honing your strategy accordingly. It requires taking the time to nurture an online community, and to give your online audience a reason to follow you and engage with you. It's not for nothing that being a social media manager is often a full-time job!
If you don't have the resources to employ a social media manager or to work with a social media agency, or if you want to see results fast, then most social media platforms allow you to pay for exposure. Almost all social media platforms have their own paid advertising features. You get to define your audience and then, for a fee, the platform will ensure that your ads reach exactly the people you want to see them.
Most platforms have their own rules for the sort of content you can include in your ads. Beyond this, it's down to you to ensure that your content's interesting enough to attract attention, and your offer's enticing enough to encourage sales. It's just like any other form of advertising: The platforms will give you your audience, but only you know how to strike a chord with them.
Take the time to explore each social media platform's paid advertising features to determine which one's best for you:
Affordable Insurance for Small Businesses
In these uncertain times, everyone needs a safety net. No matter who you are or what you do, we'll give you the cover you need at a price you can afford. We specialise in offering affordable yet comprehensive insurance cover to small businesses, including self-employed contractors and freelancers.
We'll let you tailor your cover to suit your exact needs. So you won't pay for any cover you don't need, and there are no hidden fees to worry about either. Our cover starts at just 35p a day, with no hidden fees. Head here to get an online quote in just one minute.