Are you self employed and working in the medical profession as a contract nurse? Have you recently made the jump to become a freelancer and left the NHS or one of the private healthcare employers? If this is the case, your insurance would have been organised for you in the past. It may be the first time you've had to sort it out yourself. If you're feeling a little overwhelmed and unsure about what insurance you need, don't worry – we're here to help.
In this blog, we'll cover the insurance requirements for self employed nurses working on a contract basis. We'll take you through what insurance you need by law and what other insurance you might want to consider.
What Insurance Do Nurses Need to have to Legally Practise?
As a contract nurse, you must have Medical Malpractice Insurance in place to practise in the UK. It's the law. And if you run a small medical business or consultancy and employ people, it's also a legal requirement to have Employer's Liability Insurance.
Let's look at both Medical Malpractice and Employer's Liability in turn. Why do you need them and what do they cover?
Why is Medical Malpractice Insurance Important and What Does it Cover You For?
Claims for clinical negligence against medical professionals, including nurses, in the NHS and private healthcare companies are on the rise. The number of "no win, no fee" lawyers is growing and awareness among patients of their rights and the potential damages they could be awarded is increasing.
Nurses often perform tasks that would usually be done by a doctor. From administering medicine, to physical examinations and even making a diagnosis for some illnesses, nurses take away some of the burden from overworked doctors. Expected to have a broad range of knowledge and skills and often working in stressful situations with limited resources and tight time constraints, it's no wonder that mistakes occur.
No matter how diligent you are in undertaking your professional duties, all it takes is one innocent mistake and you can be facing legal action against you. The consequences for your future nursing career could be devastating.
It is in these instances that Medical Malpractice Insurance will step in to protect you. As soon as you become aware that a claim is being made against you, it's imperative that you notify your insurer. Your Med Mal will cover your legal costs to defend the claim. It will also cover the financial compensation awarded to the claimant if the law finds you at fault.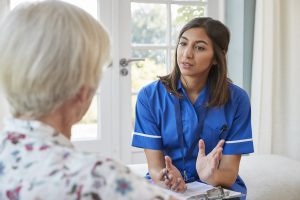 Do You Need Insurance For Good Samaritan and Good Neighbour Acts?
Legally you only need Medical Malpractice Insurance to cover your work as a contract or freelance nurse. You don't need to be insured for "Good Samaritan" acts. These are described as any spontaneous emergency assistance you offer if, for example, you encounter an accident or an injured person on the street.
Your obligation to hold insurance for good neighbour acts, where you help out in the local community, are a bit less clear. If you help out occasionally with unpaid work it's unlikely you'll need to be insured. However, if you are regularly assisting a neighbour or someone in the community, even if the work is unpaid, you should be covered by insurance. It's down to you to make a professional judgement about whether you need insurance or not for unpaid work you do.
What Protection Does Employer's Liability Insurance Provide?
If you employ people, you must have Employer's Liability Insurance. If an employee is injured during the course of their work, your insurance will provide them with financial compensation.
What Other Insurance Should You Consider?
Although you are only legally obliged to have Medical Malpractice Insurance (and Employer's Liability if you have any employees), it is recommended that you consider other types of insurance including:
Public Liability Insurance: This protects any patients or other third parties if they are hurt for any other reason apart from medical malpractice while on your premises. It also covers you if you accidentally damage a patient's possessions on your premises.
Contents Insurance: This covers your office equipment and any medical equipment in your surgery. If anything gets damaged or is stolen, this insurance would cover the cost of repairs or replacement.
Professional Indemnity: This covers you for any financial loss caused to third parties by your negligent act, error or omission during the provision of professional services.
Visit our website for more information and for a full list of insurance products.
How Can Tapoly Help?
Tapoly offer affordable insurance on demand. We know your time is precious so we won't waste it with lengthy form filling. In just a few simple questions we can give you a quote. A few clicks online and you're covered. The whole process shouldn't take you more than a minute or two.
We're regulated by the Financial Conduct Authority and our products are underwritten by Lloyds of London which means you can trust us to meet any financial obligations and pay out if you need to make a claim.
No nonsense. No fuss. Just peace of mind.
If you need help and support in getting your insurance please contact us at info@tapoly.com