A dispute with a supplier or customer can have a significant impact on your business, but what can you do if a contract has been breached?
Protect your Business against the Cost of Contract Disputes with Legal Expenses Insurance
As a part of your Tapoly policy you have legal expenses insurance, which protects you against legal costs to bring or defend an action for a breach of contract. If you have a contractual dispute and are unable to resolve the situation, you should contact us, following the claims procedure as detailed on your policy wording. We will appoint a lawyer or mediator, who will help you to resolve the dispute as efficiently as possible.
Read our case study to see how legal expenses insurance works.
A small IT company got in touch after being accused of a breach of contract by a building company they had engaged to build an extension to their premises. The builders caused a series of issues which led to the customer losing confidence in the company and managing the project themselves. The building company then made a claim for breach of contract claiming £50,000 in lost profits.
It was agreed that there was more than a 50% chance of the defence being successful so a solicitor was appointed to act for the IT company. Following mediation, a "drop hands" agreement was finally reached. The legal costs of £8,560 were covered under the policy for the IT Company and the problem went away.
Support with Debt Recovery Disputes
Contract disputes are not the only challenge for contractors and small businesses. It can take just a single overdue invoice to cause a significant cashflow problem which could potentially disrupt your whole business.
Your Tapoly policy gives access to a Business legal services website. This provides a thorough and jargon-free digital law guide to help you get to grips with the legal debt recovery process. It will also give you access to customisable legal documents. You can easily create a suite of debt collection letters for unpaid invoices. Letters come with plain-English explanations and guidance notes and can be built for free.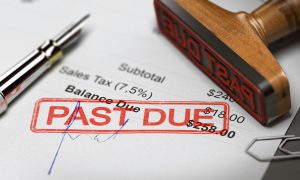 If you do not receive a positive response when you have chased for payment you will need to escalate your claim by contacting us and completing a claim form. We will assess your claim and, if it is covered, appoint a lawyer to take legal action on your behalf.
Here's an example of a debt recovery claim.
After completing their work, a small business was left without the final instalment of £10,000. They made a claim for legal expenses to pursue the debt through the courts. Under the insurance policy a lawyer was instructed to act, legal fees of £950 were covered and the debtor agreed to make two payments of £5,000 plus interest.